Engage Your Senses: Membertou's Mi'kmaq Medicine Walk
Taking part in our Mi'kmaq Medicine Walk is the ultimate experience to learn about our culture. We encourage you to gather friends, family and/or neighbours and come to Membertou for an intimate tour consisting of a medicine walk, dreamcatcher workshop, and the breaking and sharing of traditional (Luskinikn) bread.
Throughout the tour, you will learn about the traditional practices and medicines used by our ancestors. We believe the best way to learn is to feel, so prepare to have all of your senses engaged during this hands-on experience!
The tour starts off at the Membertou Welcome Centre, where you will be greeted by our friendly guides. After becoming acquainted with your group, and learning a few Mi'kmaq words, such as "kwe" (hello) and "pjila'si (welcome), you then take a short bus trip to the entrance of the Greenlink Trail system, which is located here in Membertou.
Once you've arrived at the trail entrance, your guide will lead you through a beautifully wooded trail, sharing stories, legends, and teachings about the traditional medicines and plants which the Mi'kmaq people lived off of for thousands of years, and some still today. An example of one of the plants that you will explore is the fiddlehead, which is an edible fern that is highly nutritious.
Throughout your walk, you will also experience traditional Mi'kmaq drumming. The drumbeat symbolizes the heartbeat of mother earth and provides dancers with a beat to offer thanks to our creator during ceremonies.
After your walk, sit down to handcraft your own dreamcatcher under the gentle guidance of your instructor. Your dreamcatcher is a token of your time spent in Unama'ki (Cape Breton Island) and in Membertou.
We encourage you to personalize your dreamcatcher using the vast array of colours and materials that we have available.  Our guests have been known to make dreamcatchers for all different purposes, from placing it in their baby's nursery, or hanging it over their bed, to gifting it to a loved one for a special occasion.
During this time you will also learn about the purpose of the dreamcatcher and why it has been an important piece of Mi'kmaq culture for generations.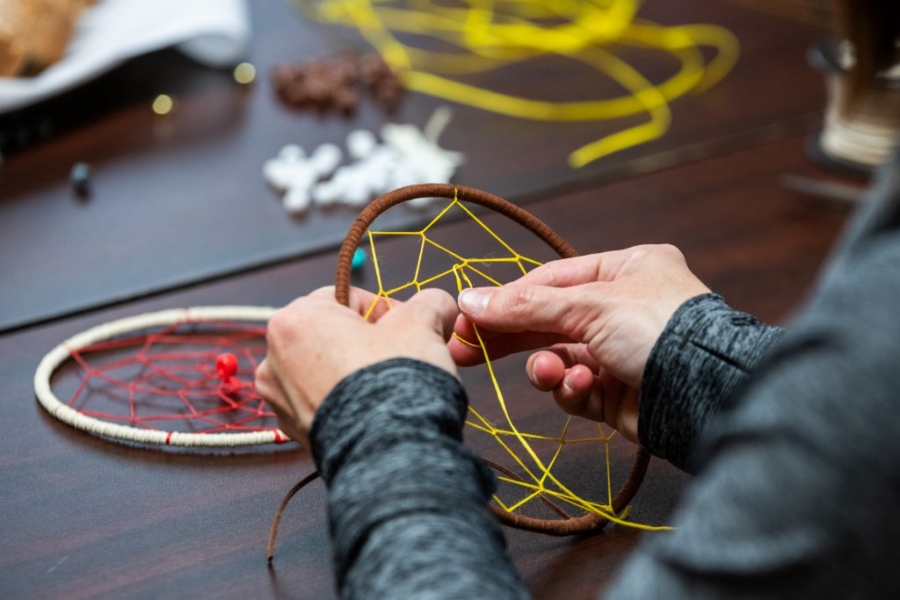 Luskinikn
Finally, finish your journey by tasting traditional luskinikn bread (pronounced loo-skin-e-gen) topped with jam and/or molasses. Most cultures have some form of bread as a staple of their cuisine, and our community is no exception. This delicious and fresh quick bread has been around for generations and we look forward to sharing it with you!
At the end of the tour, there will also be time for shopping at Petroglyphs Gift Shop, where you will be sure to find a special souvenir to take home with you. They carry traditional and contemporary Mi'kmaq art and crafts as well as limited edition originals and prints made by Mi'kmaq artists.
Tour Details
Length: 3 hours
Cost: $35 (group rates available)
If you have upcoming plans to visit Cape Breton Island, we want to reassure you that we are open and looking forward to welcoming you.
---
Continue Reading