Take a Bite Out of Winter on Cape Breton's South Coast
At a time of the year when many people are dreaming about heading south, make your winter getaway dreams come true with a trip to the spectacular South Coast of Cape Breton. Just a 3 hour drive from Halifax, this area is perfect for a family getaway or a romantic weekend. Scenic road trips, outdoor adventures, great food and more are just some of the wonderful activities that await you on this beautiful island.
All You Need is Sleep
Keeping up with the European vibes in the pub, The Groundswell Pub and Bed & Breakfast's rooms are all named after Beatles songs. These rooms have been recently renovated, and are comfortable and quiet despite being just upstairs from the pub. The best part of staying at Groundswell? Delicious breakfast served right to your room in the morning! 
 Saturday Mornings are Made for Exploring! 
The Lennox Passage Provincial Park is a must visit on Isle Madame. This park has a beautiful lighthouse and several hiking trails that are easily skiable and good for snowshoeing. The trails go through the woods and along the coast so you get some striking views of the bay and the lighthouse. It's not everywhere that you can ski right up to a lighthouse! 
Fuel up and Enjoy the Scenery
Isle Madame is a wonderful destination for a scenic drive, and Saturday afternoons are meant for just that. The drive around Isle Madame has breathtaking ocean views, interesting rock formations, and a surprising number of roads, bays and islands to explore. Stop by La Goélette à Pépé Café for a great cup of coffee and some food for the road. They also have a small shop filled with local artisan products like pottery and woodworking. Try their tasty cinnamon rolls, and grab a jar of local honey to take home!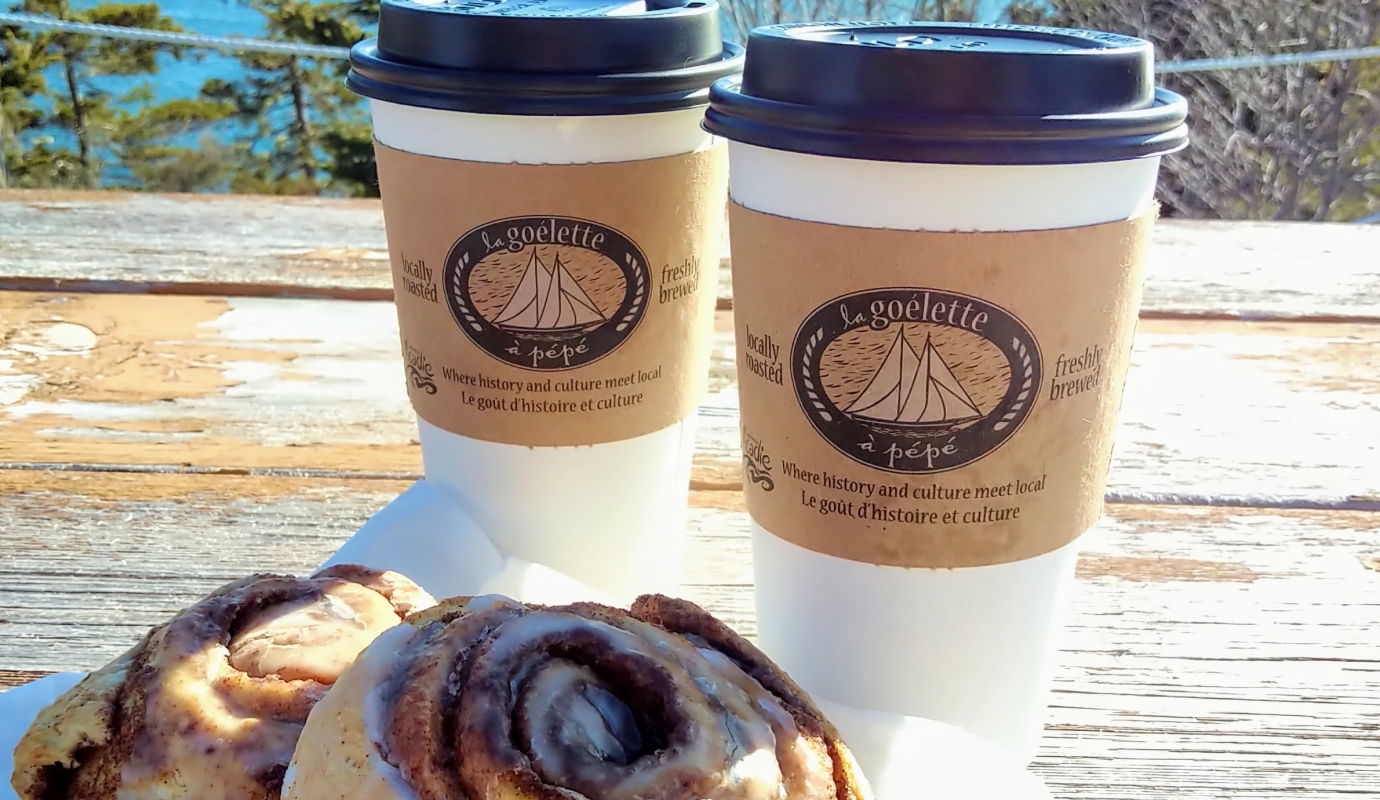 Time for Live Music and Great Food in St. Peter's 
After a day of exploring and adventure in Isle Madame, it's time to drive to St. Peter's for some live music, food and drinks! Beautifully situated at the mouth of the St. Peter's Canal National Historic Site, the Lockmaster's Pub at the Bras d'Or Lakes Inn has you covered. This lively pub has an excellent supply of local craft beer, cider, cocktails, great live music and friendly staff. You can order from their regular menu or pub menu, and they always have daily specials and a daily pasta. I highly recommend the Shrimp Acadian and the Stuffed Sole.
With a great location, and very comfortable relaxing rooms, the Bras d'Or Lakes Inn is the perfect home base in St. Peter's. Did you know that the walls in the hallways and common spaces feature art by local artists? If you find a piece you like, you can purchase it during your stay. The King Suites feature electric fireplaces, quality beds and the log cabin aesthetic is warm and inviting.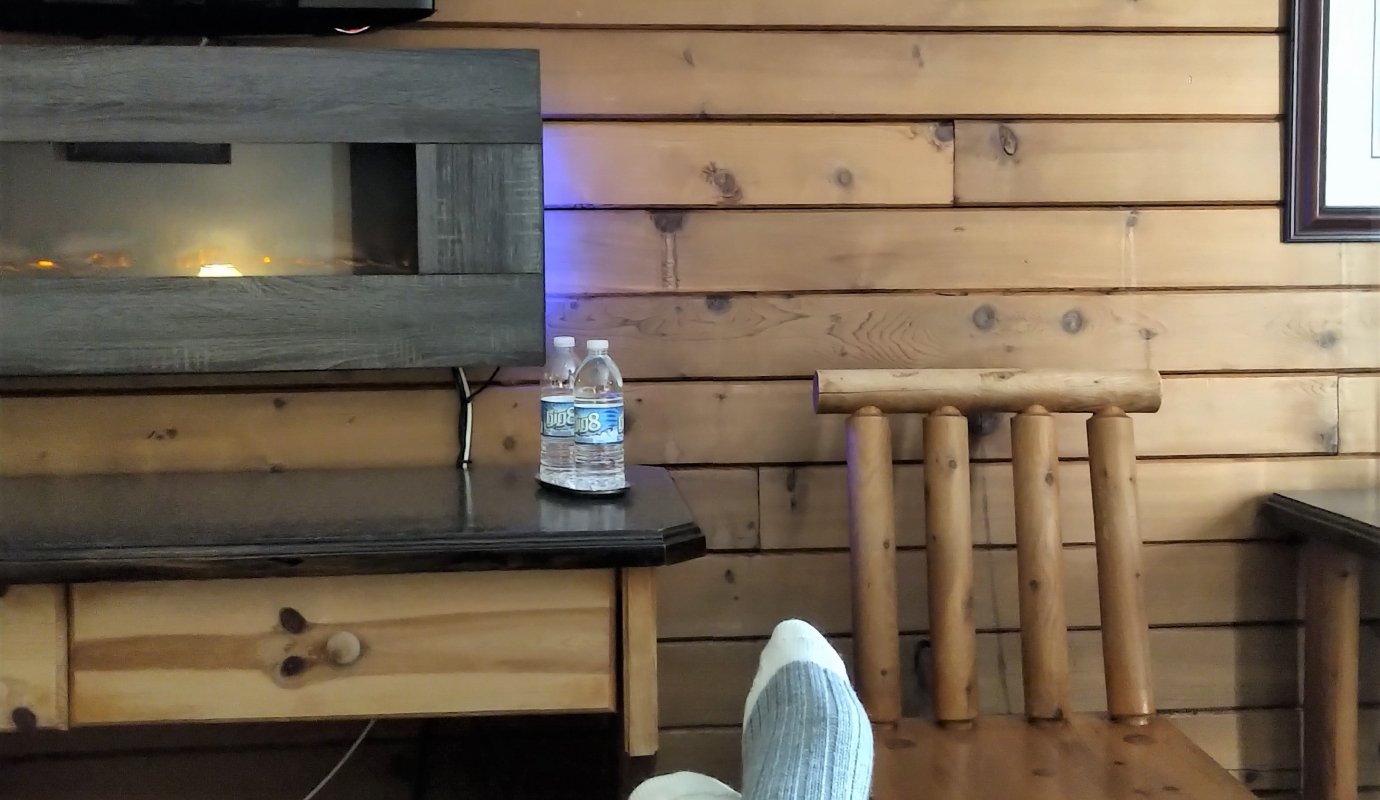 Sunday Brunch With a View
Sunday brunch makes any weekend feel like a holiday, and the brunch at the Bras d'Or Lakes Inn cannot be missed! Brunch starts at 10 am so early risers can take a walk along the historic canal before eating. You can access the canal with a short walk starting from the lower parking lot of the Inn. Once there, you can cross the footbridge to continue into Battery Provincial Park and the trail to the Jerome Point lighthouse to soak up the stunning scenery and build up your appetite. For brunch enjoy a seat at a sunny table overlooking the water, a plate of amazing food, coffee and of course a southern style beverage.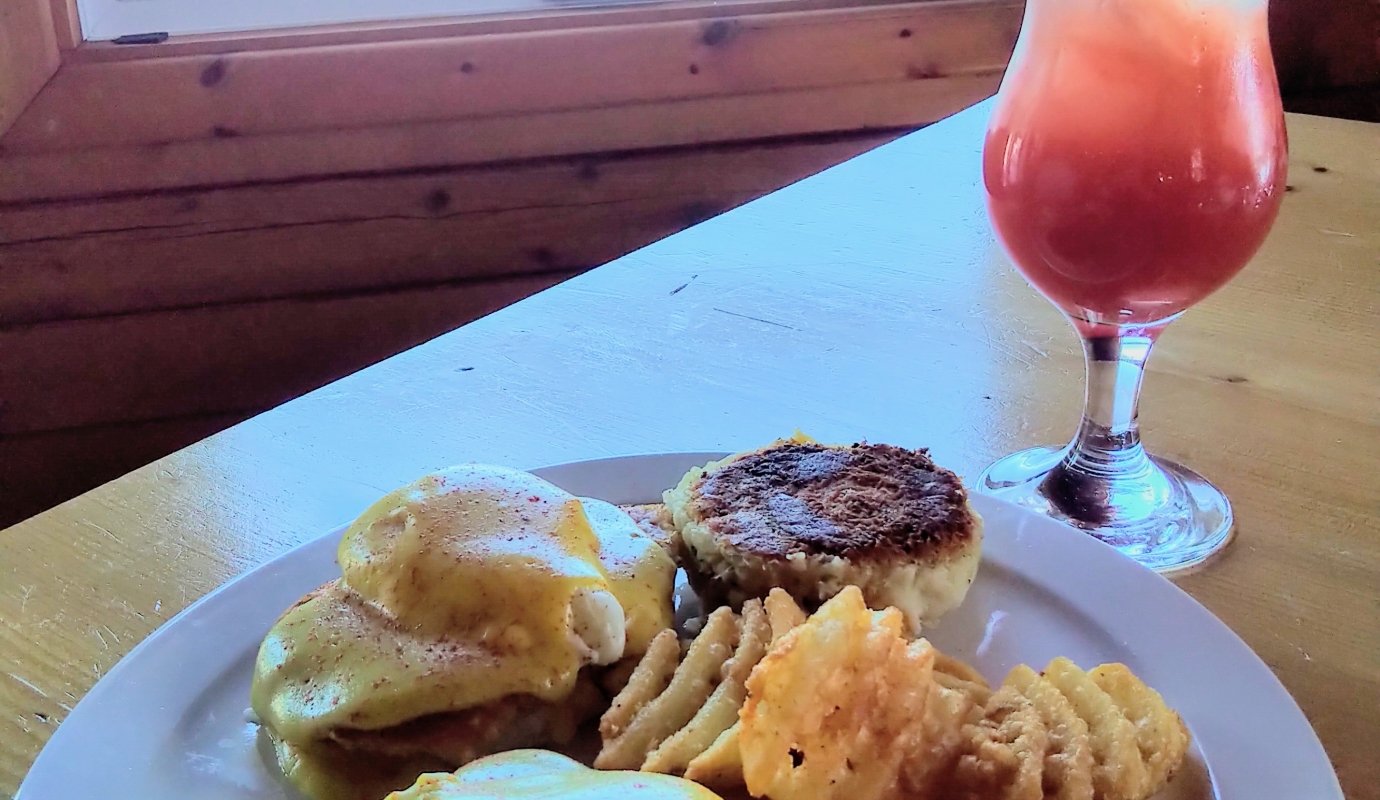 Now that you enjoyed your brunch, it's time to get back out into nature, and hit the beaches. Directly across the street from the Bras d'Or Lakes Inn take Denys street to the St. Peter's Trail. This is an easy 6km return trail along the coastline, with spectacular ocean views and the thrilling sound of waves crashing onto the beach. It is an easy walk, snowshoe or ski making it a perfect 4-season trail for people at all fitness levels.
Now that you burned off all your brunch calories, stop at Louie's Cosy Corner in St. Peter's for some great local seafood for lunch. This is a classic Cape Breton diner, and is one of the only places in Cape Breton that you will find whole fried Digby clams. The menu also features local favourites like Cajun Fish and Chips and traditional Cape Breton Fish Cakes. 
This beach is a short drive from St. Peter's, and is well-known in Eastern Nova Scotia for surfing in all seasons. It has a short trail above the beach that offers a magnificent look-off over rugged coastal terrain. Let the sound of the waves and the birds see you off until your next South Coast vacation. 
Bonus, locals say that snowy owls can be spotted at this provincial park beach. Even if you don't see snowy owls, there are plenty of eagles, and a variety of seabirds to satisfy your bird watching goals.
If you have upcoming plans to visit Cape Breton Island, we want to reassure you that we are open and looking forward to welcoming you.
---
Continue Reading