St Ann's Bay – A New Destination
The St. Ann's Bay area starts at the Exit 11 turnoff on the Trans-Canada Highway and goes right up until the base of Cape Smokey. Heading north toward the Highlands, you'll pass through communities like North River, St. Ann's Bay, Tarbot, the North Shore, Skir Dhu and Wreck Cove, among others. As soon as you take that Exit 11 turnoff and pass Colaisde na Gàidhlig / the Gaelic College, the road starts winding around the waterways and up and down the small hills. The views that you get are super-breathtaking. In the fall, it's just like a haven of colours and there's a warmth when you drive through it. Scenically, it's incredible.
Stay for a Few Days
There are all kinds of little shops, galleries, adventure operators and beautiful accommodations along the way—Lobster Galley Restaurant, St. Ann's Motel, North River Kayak Tours, the Chanterelle Inn, River Nest Wilderness Cabins, Glass Artisan Studio and Gallery, Highland Bow & Arrow, The Dancing Moose, Cabot Shores, Piper Pewter, Cabotto Chocolates, Colouratura Art Gallery, Leather Works by Jolene, Simply Pizza, The Clucking Hen Café… theses businesses and artisans keep this place rolling. And the Shoreline Adventure Center is starting up in Wreck Cove with mountain biking, cross-country skiing and outdoor adventure. Just in this area, for hiking, we've got the North River Falls, the Red Island Trail and Indian Brook Falls. It's incredible what's here in this small area. You've got all these people coming together—it's like a little adventure capital of Cape Breton Island. It's becoming its own destination. People can come here and spend three days. It's not a drive-through place anymore because we have created activities and unique, fun things to do.
Unique Accommodations
There are lots of great spots to stay, and lots of different accommodations. There's a new campground that recently opened up the road near Skir Dhu and Cabot Shores has yurts, tiny homes and domes! So you've got camping and you've got glamping. You can stay at the Chanterelle Country Inn & Cottages, Kluskap Ridge and the English Country Garden which are really nice accommodations. There's such a variety of places in which you can stay like huts, B&Bs and teepees. Nothing too weird and funky but certainly a wide variety of options, for sure!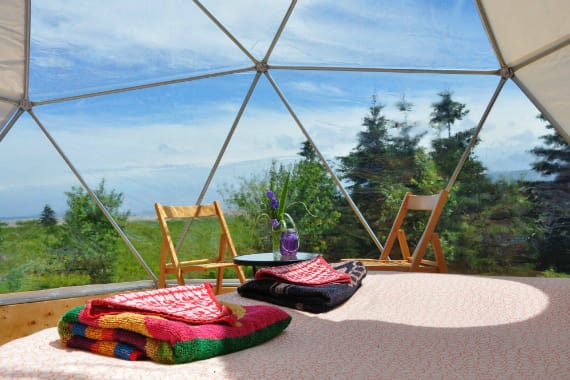 Local Character
There is a lot of local character in St. Ann's Bay. When Gaelic-speaking Scots arrived on Cape Breton Island they settled in communities with people from their own regions. The North Shore and St. Ann's Bay were popular areas for people from Lewis and South Uist. There are a lot of churches in the St. Ann's area, and a huge United and Presbyterian presence. You can find out more about the history of settlers at Colaisde na Gàidhlig/the Gaelic College, in the Great Hall of the Clans Museum. 
The Artists Loop
St. Ann's isn't just a home base for great adventures, it's also home to world-class artisans and craftspeople. A number of these artists moved to St. Ann's in the 70s and made this region of the Island synonymous with the arts. Amazing artists like North Shore Woodworks, Glass Artisans and Leatherworks by Jolene.

Kayaks and Cabins
I've been running half-day and full-day guided tours in the St. Ann's Bay area mainly since I started North River Kayak Tours almost 30 years ago. We've had people from all over the globe and all over the planet on tours. I started River Nest Wilderness Cabins going on six years. There are five cabins I constructed myself. It's sort of glamping-based but higher-end glamping with a firepit, outdoor pizza oven, and a really nice sauna. You can go swimming, you can go hiking, you can go bicycling, you can do everything from there.
A New Destination
People are coming here and they can stay here for a few days. And that's what we want. We don't want them just to blow through. We want them to come, stop and see that you can actually do so much in the run of a few days. The biggest thing in the Guest Book this year was: "We should have stayed longer. We didn't know. We didn't realize that this area was so exciting. So much to do." Things are changing. We've become a destination, not just a drive-through. And we're only 35 minutes from Baddeck.
St. Ann's Bay is becoming a destination!
If you have upcoming plans to visit Cape Breton Island, we want to reassure you that we are open and looking forward to welcoming you.
---
Continue Reading